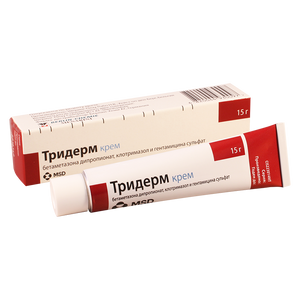 TRIDERM CREAM
Regular price
$89.00
Sale price
$79.00
Tax included.
---
International Name: Betamethasone, clotrimazole, gentamicin ATC
Classification Code - L07CC01


Pharmacological Group

 - Remedies for Bacteria, Fungi and Anti-Inflammatory



Manufacturer:

Schering-Plau Belgium




Issuance form: 

Group III over-the-counter
Composition and Release Form
Cream for External Use: Tube 15g.
Ointment 2 for external use: tube 15 g.

Pharmacological properties
Triderm cream has anti-inflammatory, anti-allergic, anti-itching, anti-fungal and anti-bacterial effects.

Testimonials
Triderm cream is used: against inflammatory events caused by dermatoses, subjected to glucocorticosteroid therapy and complicated by secondary infection caused by microorganisms and fungi sensitive to the components of the drug.
Betamethasone has anti-inflammatory, anti-itch, anti-allergic and anti-exudative action.
Clotrimazole is effective for the treatment of ankle epidermophytia, uterine dermatomycosis, cutaneous dermatomycosis (caused by Trichophyton rubrum, Trichophyton mentagrophytes, Epidermophyton floccosum, Microsporum canis), candidiasis (caused by Candida albicans).
Susceptible to gentamicin: some strains of Streptococcus (beta-hemolytic, alpha-hemolytic), Staphylococcus aureus (coagulase-positive, coagulase-negative and some penicillin-producing strains), Gram-negative Escherichia coli, P. etc.
Methods and dosage
Triderm cream application is applied in a thin layer on and around the damaged skin, twice a day, morning and evening. The duration of treatment depends on the localization of the lesion, its size, and the effectiveness of the treatment. In order to prevent the systemic effects of steroids, it is not recommended to apply the drug to a large area for a long period of time.
If no clinical improvement is observed after 3-4 weeks, the diagnosis needs to be clarified.

Side effects
Side effects are rarely observed: erythema, exudation, itching, burning sensation. Topical use of glucocorticosteroids may cause burning sensation, itching, rash, dryness, folliculitis, hypertrichosis, hypopigmentation, perioral dermatitis, allergic contact dermatitis, skin maceration, secondary infection, skin atrophy, striae.

Contraindications
Triderm cream is contraindicated in patients with hypersensitivity to any of the components of the drug.

Pregnancy and lactation
As the effect of the drug in pregnant women has not been studied, it is used only if the potential positive effect of the drug exceeds the expected risk. It is not recommended to use it in high doses. The drug should be discontinued during lactation or breastfeeding.

Special instructions
The drug is stored at a temperature of 2-3ºC, out of reach of children.
Shelf life: 3 years.

Conditions of release: Out of prescription.