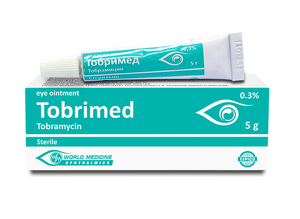 TOBRIMED OINTMENT 0.3%
Regular price
$97.99
Sale price
$90.00
Tax included.
---
International Name:

TOBRIMED

Pharmacological group: Anti-inflammatory, antibacterial drug. An antibiotic of the aminoglycoside group with a broad spectrum of action.
Manufacturer: Epico Egypt
Country: Egypt

Issuance form: 

Group III over-the-counter
Pharmacological properties:
The drug is an aminoglycoside antibiotic with a broad spectrum of action.
Disrupts bactericidal action by disrupting protein synthesis and permeability of the bacterial cytoplasmic membrane. Highly active against Pseudomonas aureginosa.
Tobrimed is active against Gram-negative bacteria: Escherichia coli, Klebsiella pneumonia, Serratia spp., Providencia spp., Shigella spp., Citrobacter spp. Herellea vaginacola) against some species of Neisseria spp. (Including Neisseria gonorrhoeae); against gram-positive bacteria: Staphylococcus spp. (Including penicillinase-producing strains).

Indications:
Infectious diseases of the eye and its appendages caused by susceptible to tobrida:
- blepharitis, conjunctivitis, keratoconjunctivitis, blepharoconjunctivitis, keratitis, endophthalmitis, cryocystitis, meibomitis;
- Prevention of postoperative infectious complications in ophthalmology.

Method of administration and dosage:
Before prescribing the drug, it is desirable to determine the sensitivity of the microflora to it, which caused the disease in the patient.
Tobrimed eye ointment 0.3%: A 1.25 cm strip of ointment is placed in the conjunctival sac (between the posterior surface of the hollow eyelids and the anterior surface of the eye socket) 2-3 times a day; In severe infection - every 3-4 hours until the desired effect is achieved, and then the dose is reduced to complete cessation. In addition to eye drops at night, it is possible to use additional eye ointment to ensure longer contact with the drug.
Tobrimed eye drops 0.3%. For external infections of the eye (or eyes), 1-2 drops are instilled into the conjunctival park of the damaged eye (or eyes) every 6 hours. In case of the acute infectious process, the drug is instilled every 30-60 minutes until the desired effect is obtained, and then the dose of the drug is gradually reduced. Prevention of postoperative infectious complications in ophthalmology: 1 drop of 0.3% solution every 15 minutes 9 times before surgery.

Side effects:
In 15% of cases of use of Tobrimed, patients experience burning, itching, tingling, and in 1-5% - hyperemia of the mucous membrane of the eye, foreign body sensation in the eyes, tears. In less than 1% of cases, blepharitis, keratitis, swelling of the eyelids, pain in the eyes, chemosis, accumulation of crystals, corneal ulcers.

Contraindications:
- Hypersensitivity to tobramycin and other aminoglycosides.
- Pregnancy and lactation;
- Age of children.

Pregnancy and lactation:
The use of the drug Tobrimed during pregnancy and lactation is contraindicated.

Storage conditions:
Tobrimed eye ointment 0.3% and stored up to 30ºС. Keep out of reach of children. The drug is used for a month after opening the tube!

Shelf life - 2 years from the date of manufacture. The drug is not used after the expiration date.

Conditions of release: Out of prescription.