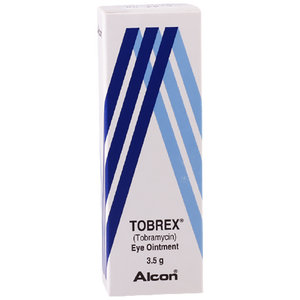 TOBREX OINTMENT 0.3%
Regular price
$92.00
Sale price
$85.00
Tax included.
---
International Name:

TOBREX

Pharmacological group: Antibacterial drug of the minoglycoside group for topical use in ophthalmology.
Manufacturer: Alcon Spain

Issuance form: 

Group III over-the-counter
Pharmacological properties:
Tobramycin is a water-soluble aminoglycoside antibiotic that acts on a wide range of gram-positive and gram-negative microorganisms causing ophthalmic diseases.
In vitro studies have shown that tobramycin is effective against susceptible strains of the following microorganisms: Staphylococci, including Staphylococcus aureus and St. John's wort. Epidermidis. (Coagulase positive and coagulase-negative), including penicillin-resistant strains. Studies have shown that gentamicin-resistant microorganisms in some cases retain their susceptibility to tobramycin, although an increase in bacterial resistance may be ruled out with prolonged use of the drug.

Indications:
Diseases of the eye caused by bacteria susceptible to Tobrex.
The use of Tobrex should be accompanied by appropriate monitoring of bacterial susceptibility. Clinical studies have shown that tobramycin is safe and effective in children.

Method of administration and dosage:
Solution for mild to moderate disease - 1-2 drops in the affected eye (both eyes) every four hours.
In case of acute infectious diseases, 2 drops once every hour until the condition improves, after which the dose of the drug should be gradually reduced until complete cessation.

Ointment for mild to moderate diseases, the ointment should be applied to the affected eye (both eyes) 2-3 times a day;
In case of severe infectious disease in the affected eye (both eyes) once every 3-4 hours until the condition improves, the dose of the drug should be gradually reduced until complete cessation of its reception.
Tobrex ointment and drops can be used together.

Side effects:
The most common adverse reaction is local hypersensitivity of the eye, manifested by eyelid hyperemia and edema, as well as conjunctival erythema. Similar reactions develop with other aminoglycoside antibiotics. No other side effects have been reported with Tobrex.

Contraindications:
* Hypersensitivity to any of the components of the drug.

Pregnancy and lactation:
Animal studies have not confirmed the teratogenic effect of the drug. Tobrex is prescribed to pregnant women only when absolutely necessary.

Special instructions:
It is not used for intraocular injection.
Tobrex should be discontinued in case of hypersensitivity reaction to topical aminoglycosides.
Safety Precautions:
Prolonged use of antibiotics may promote the growth of resistant microorganisms, including fungi. In the case of superinfection, appropriate treatment is required.
Ophthalmic ointments may cause delays in wound healing.

Overdose:
Symptoms of overdose coincide with side effects (spotted keratitis, erythema, increased tearing, eyelid swelling, and hyperemia).

Storage conditions:
The drug is stored at a temperature of 8-30oC, out of reach of children.

Shelf life: 1 year; 1 month after opening the vial or tube.
Conditions of release: Out of prescription.