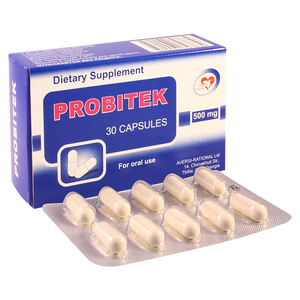 PROBITEK
Regular price
$145.00
Sale price
$125.99
Tax included.
---
International Name (active ingredient):

 

Probitek
Pharmacological group:

Drugs regulating intestinal microflora

Manufacturer: 

Aversi-Rational



Country: 

Georgia

Issuing mode: 

Group III over-the-counter



Action:
Probitek is a set of probiotics that helps to normalize the action of the gastrointestinal tract. Its lactobacilli and bifidobacteria form a protective biological layer on the surface of the mucous membrane, which resists the attachment of pathological microorganisms and toxins to it and protects it from the effects of toxins. Bifidobacteria inhibit the multiplication of disease-causing bacteria; Participate in the synthesis of hormones, K and B-group vitamins, folic and pantothenic acid; Promote the absorption of calcium, iron, vitamins; Regulate intestinal peristalsis. Lactobacilli produce antibiotic-like substances, interferon, interleukin-1; Characterized by bactericidal activity against pathogenic microflora; Cause the fermentative breakdown of proteins, fats and carbohydrates. Lactobacilli and lactic acid bacteria protect the body from the development of allergic reactions, diarrhea and constipation, control the restoration of the mucous membrane of the digestive tract, play a variety of roles in the formation and maintenance of immunity.

Basic physicochemical properties:
Beige, Hypromellose (HPMC) solid capsules filled with whitish to light yellow powder.

Ingredients :
1 capsule of Probitek contains 10 billion living cells: Lactobacillus acidophilus, Lactobacillus Plantarum, Lactobacillus rhamnosus, Bifidobacterium lactis.
Excipients: potato starch, pregelatinized starch, magnesium stearate.
Capsule membrane composition: hypromellose, dye: titanium dioxide (E 171).

Release form:
capsules, 500 mg.

Indications:
- Used in adults and children with dysbacteriosis of various genesis (including caused by antibiotic therapy, irrational nutrition, stressful situations);
- regulates the action of the gastrointestinal tract;
- Strengthens immunity.

Method of administration and dosage:
In adults and children over 6 years of age, take 2 capsules once a day with a small amount of water, half an hour after eating.

Contraindications: Not identified.

Packaging: 10 capsules in a blister, 3 blisters in a cardboard box.

Storage conditions:
Store in the refrigerator at a temperature of 2 - 8ºC.
Keep out of reach of children.
In case of any defect found as a result of visual inspection, the drug should not be taken.

Shelf life:
1.5 years. It is not allowed to use Probitek after the expiration date mentioned on the package.

Condition for dispensing from a pharmacy:
Pharmaceutical product group III, dispensed without a prescription.