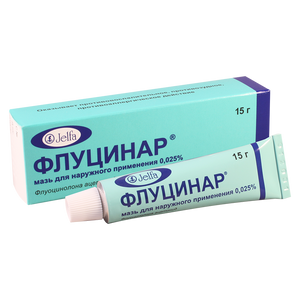 FLUCINAR OINTMENT
Regular price
Sale price
$49.00
Tax included.
---
International Name:

FLUCINAR

Pharmacological group:

Antimicrobial, anti-inflammatory and other action. Having prep.

Manufacturer: Jelfa
Country: Poland

Issuance form: 

Group III over-the-counter
Pharmacological properties:
Dermatological preparation for external use. It has strong anti-inflammatory, anti-allergic and anti-itching action. The action of flucinar is stronger than that of hydrocortisone.

Indications:
- acute and severe inflammatory conditions of allergic origin, the treatment of which is ineffective with other steroids;
- Chronic psoriasis;
- Disseminated lupus erythematosus;
- Multiform erythema;
- Flat lichen accompanied by severe itching, or localized on the nail;
- Eczema with lichenification;
- Seborrheic dermatitis.

Contraindications:
Bacterial, fungal and viral diseases of the skin, tumors of the skin, or precancerous conditions, pink and vulgar discoloration, history of hypersensitivity to the drug.

Pregnancy and lactation:
It is not recommended to use the drug in pregnant women, especially for a long time and on a large area of ​​skin.

Interaction with other medicinal products: Data obtained.

Method of administration and dosage:
The drug is prescribed topically, the frequency and rules of its use are determined by your doctor.
It is usually prescribed: an ointment-soaked diaper is applied to the affected areas of the skin, or a thin layer of ointment is applied directly to the skin. The drug is prescribed 2-3 times a day.
In psoriasis, an occlusive dressing is applied that adheres tightly to the skin surface.
The effectiveness of the treatment depends on the results obtained. The drug can be used for no more than 3-4 weeks.

Side effects:
Prolonged use of the drug inhibits the growth of the epidermis, causes subcutaneous cell atrophy, the appearance of stretch marks.
The following symptoms may occur: skin hyperemia, hyperkeratosis, delayed skin healing, bruising on the skin.
It is necessary to inform the doctor during the development of these events.
Treatment with the drug is discontinued during acute skin irritation.

Special instructions:
Prolonged use of the drug on the skin of the face is not allowed, as it is possible to develop allergic reactions.
The drug is prescribed with caution in patients with glaucoma and cataracts.
Flucinar ointment is prescribed to children only as an exception, with caution, for a short period of time.

Storage conditions:
The drug is stored at a temperature not exceeding 25ºC, out of reach of children.
Shelf life - indicated on the packaging. It is not allowed to use expired drugs.

Conditions of release: Out of prescription.