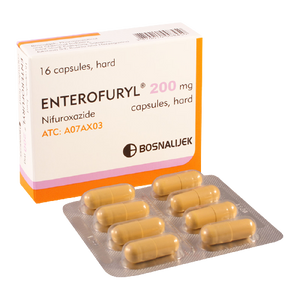 ENTEROFURYL
Regular price
$55.00
Sale price
$49.99
Tax included.
---
International Name (active ingredient):

 

Nifuroxazide
Pharmacological group:

Antidiarrheal drugs

Manufacturer:

Bosniaaljek Bosnia



Country: Bosnia
Issuing mode: Group II (without a prescription)

Pharmacological properties
Nifuroxazide is a derivative of 5-nitrofuran, which is not absorbed from the gastrointestinal tract and has antimicrobial and antiparasitic action throughout the intestinal tract. Nifuroxazide is thought to trap bacteria and then kill intestinal infectious bacteria through the sodium-NO2 group. Gram-positive Streptococcus pyogenes and Staphylococcus pyogenes are particularly susceptible to nifuroxazide as well as gram-negative enterobacteria E. coli, Salmonellae and Shigellae, which cause diarrhea.

Pharmacokinetics
After oral administration, nifuroxazide is practically not absorbed from the gastrointestinal tract and its antimicrobial effects are manifested in the intestinal tract. Nifuroxazide does not penetrate into the organic system and tissues. It is fully excreted in the feces. The rate of expulsion depends on the amount of drug taken and the ability of the digestive tract to move. However, it can generally be said that the excretion is slow and nifuroxazide stays in the digestive tract for quite a long time.

Indications
- diarrhea caused by alimentary infections and intoxications in children and adults, in particular, caused by E. coli;
- Chronic diarrhea during colitis;
- Disruption of intestinal fermentation;
- Acute and chronic diarrhea of ​​nonspecific and unknown etiology without invasive events;
- Iatrogenic diarrhea caused by taking antibiotics;
- Some cases of coagulopathy with specific bacteria.
- Symptomatic diarrhea with colorectal cancer;
- Prevention of traveler's diarrhea.

Dosage and Administration

Adults and children over 6 years:
Take one capsule 3-4 times a day (200 mg 3-4 times, a total of 600-800 mg nifuroxazide per day).
Contraindications

- allergy to nitrofuran derivatives;
- Children under 6 years old.
Side effects
Nifuroxazide is characterized by fairly good tolerability. Very rarely it can cause sensitization of the body and allergic reactions. Apart from the above, no other side effects have been described.
Pregnancy and lactation
There are no data on whether taking nifuroxazide during pregnancy causes possible adverse effects on the fetus. Thus, the use of enterofuril during pregnancy is safe.
Nifuroxazide is not absorbed from the digestive tract and does not enter the systemic circulation. Thus there is no possibility of its excretion in breast milk. Therefore, the drug can be used during lactation.

Storage conditions and terms: Keep out of reach of children.

Shelf life: 3 years. The drug should not be used after the expiration date.

Conditions of release: Out of prescription.