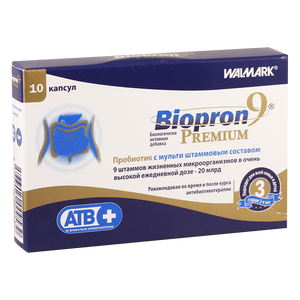 BIOPRON 9 PREMIUM
Regular price
$110.00
Sale price
$99.99
Tax included.
---
International Name (active ingredient):

 

Biopron 9 Premium
Pharmacological group:

Drugs regulating intestinal microflora

Manufacturer: 

Valmark



Country: 

Czech Republic

Issuing mode: 

Group III over-the-counter



Biopron® 9 Premium - Multistam Probiotic. Contains 9 probiotic strains in combination with prebiotics. Used to restore the intestinal microflora during and after antibiotic therapy.

Pharmacological group: Regulator of intestinal microflora balance - a complex synbiotic agent.

Indications: Restoration of intestinal microflora during and after antibiotic therapy; Restoration of the damaged intestinal microflora; Used in adults and children from 3 years of age.

Description: Biopron® 9 Premium is a complex of probiotics, which is a unique and balanced combination of probiotic culture and prebiotic fructooligosaccharide (FOS). Contains 9 strains of living microorganisms with a daily dose of 20 billion.

Mechanism of action:

1. Probiotics are living microorganisms that, if administered in adequate doses, are beneficial to the health of the host (FAO / Ch HO. 2002 definition) 1). The benefits of the product are based on a wide range of bacterial strains. A combination of 9 different strains promotes more intensive colonization of bacteria in the digestive tract.

2. Probiotics are selectively fermented ingredients that cause specific changes in the composition and/or activity of the gastrointestinal microflora that contribute to the health and well-being of the host organism (Gibson, 2004 definition). 2)
Biopron® 9 Premium is:
- Probiotic with multistam composition
- 9 species of bacteria in very high daily doses - 20 billion;
- Added prebiotic in the form of fructooligosaccharides;
- Acceptable during and after treatment with antibiotics;
- Acceptable for the whole family and children from 3 years old;
- Made by GMP certified factory holder.
Method of administration and dosage:
1 capsule 1-2 times a day with food. Biopron 9 Premium can be used for treatment with antibiotics directly from the beginning. The drug should be used between two doses of the antibiotic. Treatment is continued for another week or more after stopping taking antibiotics. Probiotic strains of Biopron 9 Premium are a natural part of the intestinal microflora of the human body, therefore, the product is safe even when used for a long time. Do not exceed the recommended daily dose.
To increase protection against probiotic strains, moist blisters are covered with an appropriate thick aluminum foil. The thickness of the blister foil can be a problem when removing the capsule. Therefore, it is recommended to attach the capsule to the edge or break the integrity of the aluminum foil to the pressure (with a nail).
Attention: Not intended for children under 3 years old! Acceptable for pregnant and nursing mothers.
Storage conditions:
Store in a dry place at a temperature of 5-25°C. Out of reach of children. Do not leave in direct sunlight!
Ingredients:
 Free of gluten and preservatives; Acceptable for pregnant and lactating mothers; Used from 3 years of age.
Conditions of release:
 Out of prescription.