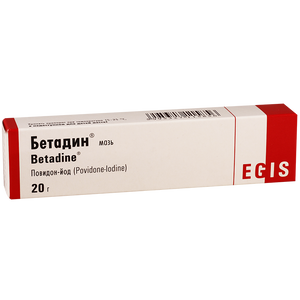 BETADINE OINTMENT
Regular price
$99.00
Sale price
$89.00
Tax included.
---
International Name:

BETADINE

Pharmacological group:

Antiseptic

Manufacturer: Egis

Issuance form: 

Group III over-the-counter
Pharmacological properties:
Elemental iodine has a strong hermicide effect. In in vitro experiments it quickly kills all bacteria, fungi, viruses and some of the simplest organisms.

Indications:
Betadine ointment - a broad-spectrum antiseptic for topical use, as well as for the prevention of infection in small wounds and scratches, minor burns and minimal surgical procedures.
The drug is recommended for the treatment of fungal and bacterial infections of the skin, as well as ulcers and trophic ulcers.

Contraindications:
• Allergy or possible allergy to iodine;
• Regular use of the drug is contraindicated in persons with impaired thyroid function (in particular, colloidal nodular goiter, endemic goiter and Hashimoto's thyroiditis).
• During herpetiform dermatitis;
• Therapy and scintigraphy using radioactive iodine.
Safety Precautions:
• Caution is required during regular use in patients with conic renal failure.
• It is necessary to refrain from regular use of betadine ointment for patients taking lithium supplements.
• Control of thyroid function is required during prolonged use.
• Children need to use the smallest possible dose, and the course of treatment should be as short as possible.

Pregnancy and lactation:
It is necessary to refrain from regular use of povidone-iodine for pregnant and lactating women, because the absorbed iodine crosses the placental barrier and can be excreted in breast milk. Although no side effects have been reported with limited use, caution should be exercised when considering the benefits of the ointment as well as the potential effects on fetal thyroid function and development by the absorbed drug.

Interaction with other medicinal products:
• The use of povidone-iodine in combination with disinfectants containing mercury, silver, taurolidine, hydrogen peroxide and benzoic acid reduces the effectiveness of both drugs.
• Iodine absorbed through intact skin or wound surface may affect the results of thyroid function tests.
• Povidone-iodine residues may lead to false positive results in some types of examination for faecal occult blood as well as blood and glucose in the urine.

Method of administration and dosage:
• The drug is for topical use;
• For the treatment of infections: should be taken 1 or 2 times a day for no more than 14 days.
• For infection prevention: should be taken 1 or 2 times a week for as long as needed.
• Damaged skin should be cleansed and dried. Betadine ointment should be applied to the affected area. Treated skin can be covered with a bandage.

Side effects:
Povidone-iodine, the active ingredient in betadine ointment, is well tolerated by patients. It is believed that it has a weaker irritating effect than iodine, but can cause hypersensitivity reactions of the skin, for example: contact dermatitis with the development of small red bullous elements like psoriasis.
Prolonged use of povidone-iodine, as well as its application to large wounds or severe burns can cause symptoms of overdose.

Overdose:
Elevated iodine levels can lead to goiter and the development of hypothyroidism or hyperthyroidism. Systemic absorption of iodine with repeated use of povidone-iodine over a wide area of ​​the wound or burn can cause many adverse effects: taste of metal in the mouth, increased salivation, pain or burning sensation in the mouth or throat, eye irritation and swelling, skin reactions, gastrointestinal disorders and Diarrhea, shortness of breath, pulmonary edema, metabolic disorders (metabolic acidosis and high sodium in the blood), impaired renal function. In case of suspicion of overdose it is necessary to consult a doctor.

Release form:
20 g ointment in a lithographed aluminum tube with a white polyethylene screw cap. The tube is placed in a cardboard box with instructions for use.

Storage conditions:
Store at a temperature of 15 ° -25 ° С out of reach of children!

Shelf life: The shelf life is indicated on the box.
Do not use the drug after the expiration date, which is indicated on the box

Conditions of release: Out of prescription.